CeraGlass India 2012
15 Dec - 18 Dec
---
09:30 A:M
Jaipur,
---
Export Promotion Industrial Park
---
---
---
Convoked in Jaipur, Cera Glass India is a highly specialized event for ceramic sanitary equipment & Glass sector, the event will offer unlimited business potential for exploring the relative areas. It is 4 days fair which will be organized by Confederation of Indian Industry, Chandigarh and will prove to be a hub of over hundreds of exhibitors & visitors from all over the world, renowned manufacturers, suppliers, exporters, traders etc.
The key highlights of the CeraGlass India show are:
1. 1st comprehensive show on ceramics, glass and allied products.
2. Reverse buyer-seller meets.
3. Business to the tune of USD 25 million (approximate 125 Crores) was estimated during the Buyer Seller Meet.
4. 8 International conferences were addressed by over 90 experts from government, industry, research organizations and academia and attended by over 230 participants.
5. Supported by Ministry of Commerce and Industry, Government of India and Government of Rajasthan.
Starting Date: 15 December 2012
Ending Date: 18 December 2012
Business Timing:
09:30 am – 03:00 pm
Public Timing:
10:00 am – 06:00 pm
Venue:
Export Promotion Industrial Park, Jaipur
Total Exhibitors: 150
Expected Visitors: 6000
The following features of the exhibition floor at the CeraGlass India show are worth a special mention:
1. The conference facility hall.
2. The international pavilion area.
3. The lunch block zone and
4. The service entry area.
Organizer:
Confederation of Indian Industry, Chandigarh
Northern Region Headquarters Sector 31 A, Dakshin Marg
Chandigarh, Chandigarh, India
Tel: +(91)-(172)-5080122/2607228/2605868
Fax: +(91)-(172)-2606259/2614974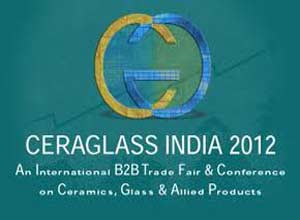 ---
Export Promotion Industrial Park Jaipur
+(91)-(172)-5080122
2607228
2605868
---
www.ceraglass.in
---
---