Jaipur By Nite – Jaipur's Cultural Festival
Jaipur,
---
City Palace & Hotel Clarks Amer
---
---
'Jaipur By Nite' is a 2 day colourful weekend festival which will be organising to promote Jaipur as the all year destination. This second edition of Jaipur By Nite will showcase Jaipur city at its best like decorated historical monuments, their markets within city walls, entertaining evenings with live music, fashion show, sound and light show, shopping, food and drinks at the City Palace and Hotel Clarks Amer. Diya Kumari, Princess of Jaipur is the Brand Ambassador of Jaipur by Nite.
Rajasthani folk music with many dance forms and traditional, tasty Rajasthani cuisine are another attraction of this festival this year. Anyone who have registration can attend this fest.
Highlights of Jaipur By Nite 2013
Dunes of Rajasthan
Padanyaas of Bollywood
Krishna Beura – Sufi Singer
Samandar Khan with Sampravaahi from Rajasthan
Shweta Pandit – Bollywood Singer
Kamli Sapera
Rajasthan Troupes to Perform
Lakh Bangle
Khushbu of Rajasthan (Rajasthani Food)
Magician
Parrot card reader
Safawala
Mehndi
Chori Wala
Jaipur By Nite Schedule Dates: 26 & 27 July 2013
Venues of Jaipur By Nite: City Palace & Hotel Clarks Amer
Jaipur By Nite Schedule
Day 1 – At City Palace 06:30 pm onwards
Features:
Sufi Music and dance Rajasthani culture and food, Food Bazar, Handicraft Show, Padanyaas. Kachhi Ghodi, Shekhawati Chang Dhap Troupe, Bhopa Bhopi, Dhol Wale, Lakh bangle, Safa Wala, Parrot Card reader, puppet show, magic show, etc at Mubarak Mahal. Krishna Beura music night. Dance Performances in Sarvatro Bhadra Chowk.
Day 2 – At Hotel Clarks Amer 06:30 pm onwards
Features:
Samandar Khan performances. Sampravaahi – Manganiar and Jaipur Kathak Gharaana combination. Kalbelia dance. Kamli Sapera & Troupe performance, Palmist, potter, Tattoo artist, caricature artist, etc. Live performance by Shweta Pandit.
Participation/Registration Fee: Rs 2000/- per person per day and Rs 3500/- for two days (inclsive of taxes)
Organisers :
Department of Tourism, Government of Rajasthan
Confederation of Indian Industry (CII)
Young Indians (Yi)
For Participation/Registration Contact:
Vidur M Patel/ Ashish Modi
Confederation of Indian Industry
(Northern Region) – Sub-Regional Office
D-24, Subhash Marg, C Scheme, Jaipur 302001
Phone: 0141-2370349, 2365844
Fax: 0141-5118389
Email: vidur.patel@cii.in, ashish.modi@cii.in
Website: www.jaipurbynite.com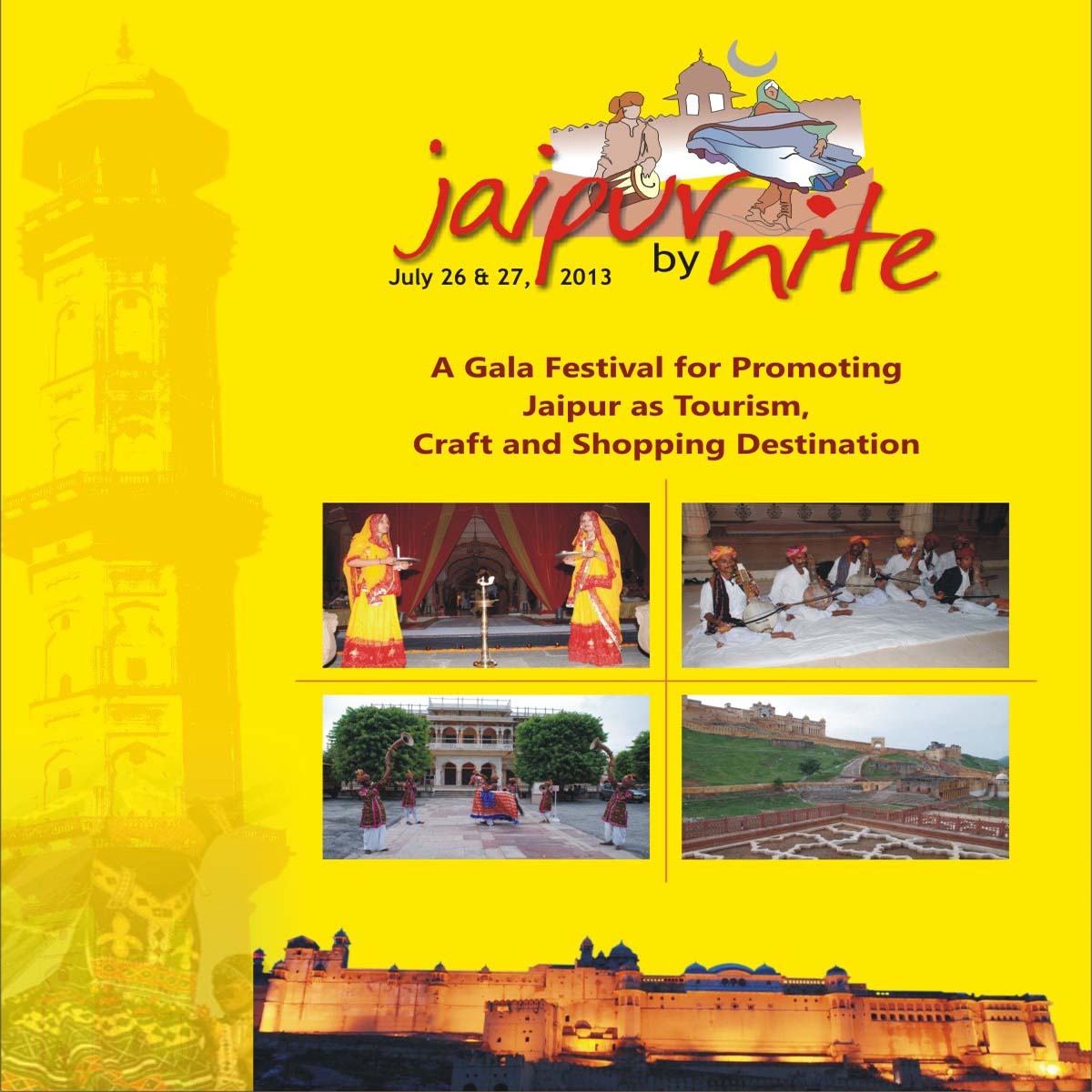 ---
Vidur M Patel/ Ashish Modi
Confederation of Indian Industry
(Northern Region) - Sub-Regional Office
D-24, Subhash Marg, C Scheme, Jaipur 302001
0141-2370349, 2365844
---
ashish.modi@cii.in
---
www.jaipurbynite.com
---
---