VANQUISH 2013 Sports Festival
05 Apr - 06 Apr
---
11.00 A:M
Jaipur,
---
Global Technical Campus
---
---
Vanquish 2013 will again rocks. The national sports meet of the global technical campus is celebrating its 4th anniversary now.
The grand success of this sports fest has helped GIT in welcoming participants from all over the nation.
It is a matter of a great proud that the level of this fest has reached a great height in a short span. This time we are back with more zeal that it will rapture you all.
Major Events-
Basketball(boys/girls)
Volleyball(boys/girls)
7-a side footall(boys)
kabaddi (boys/girls)
Arm wrestling (boys/girls)
Chess (boys/girls)
Carrom(boys/girls)
Badminton (Boys/girls)
Event – Annual Sports Meet
Venue – GTC, Jaipur
Start Date – 05 April 2013
End Date – 06 April 2013
Timing – 11:00AM – 5:00 PM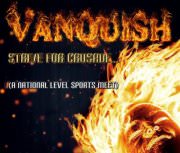 ---
GIT, Jaipur Rajasthan
---